It is now the 3rd month Damar and I have been living in our new apartment. Looking back at the moving period gives me some chill. It was a hard labor, I am telling you. Do not compare with moving in my hometown where it is quite easy to get help and cheaper labor. Basically we all can just pay some amount of rupiahs and get everything done. Everybody literally offers help even the neighbors. Whereas in here, labor is expensive and they have hourly rate in which if accumulated, will be a lot.  So we had to carefully plan the expense. As for help offer, it will only come to a super duper mega close friends, even that, usually they do not offer, we have to ask. So most of the times, we did nearly everything ourselves, from disassembling the furniture to clean up.
We did not move to different city by the way. We only moved from Amsterdam North to Amsterdam East.
Anyway generally, moving houses require a lot of preparation and endless planning, but there are some specifics to remember when moving in Netherlands. Below are a few tips and points on all that must be done
MOVING BOXES
This is basically one of the first important steps to take. When you have the box, you may start packing the stuff that you do not use daily. We used moving boxes from GAMMA, just because when we visit the store, there was a 20% discount particularly on the moving boxes. This thing is worth checking (Gosh I have become so Dutch in this sense ;)). We were very lucky because 1 set (5 boxes) is 9.90 euro and we started by buying 2 sets. The dimension is 48x32x33 cm which is perfect. We had no complain with these moving boxes, it's quite strong as long as you do not put books in one box. I found another alternatives (if GAMMA is not in discount) from goedkoperverhuisdoos.nl which costs 0,90 per box with similar size as the one in GAMMA.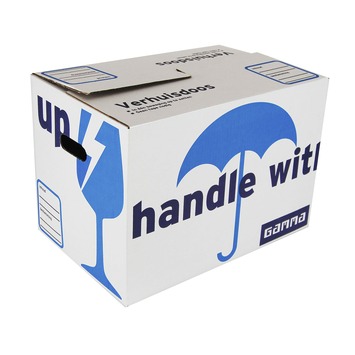 Source: GAMMA
As we cleaned up and started packing, we noticed that we needed more boxes (obviously!). At the end, we ended up with 6 sets which makes to 30 boxes. If you are lucky, you can also get boxes deal from marktplaats.nl, some people resell their moving boxes. However, bear in mind that the condition is most probably not 100% and easier to perforate.
TIPS: Label your boxes with the content and category (the area it belongs). Put on the top AND on the side, you will thank yourself later. Ask the driver or whoever helps you moving to put in the room that is stated in the label. Call me weird, but I really love this part in general. Organizing is in my blood.
If you intend to sell some of your boxes after use, do not write on the box surface. Put stickers or paper+ tape on the box to allow you taking it off. It will not be as clean as new box, but people will not mind that.
I tried to utilize bags, luggage, baskets, and plastics (that we already have and can be re-used) as much as possible. After all, boxes are made of paper.
CLEAN UP
I am a 'pro' in doing this little by little. We did the packing and the clean up ourselves. In the Netherlands, you need to make sure that you leave the house as it was. We were lucky at least that we did not need to take out the laminat, otherwise it would be such a pain. No need to even re-paint, we only had to fill the wall part that got hammered. Thus, we thought we would manage to do this ourselves. Well apparently, they decided to still take a part from our deposit to hire cleaner. Duh. So make sure that you leave the house as perfect as possible. Usually the person from house agent or landlord will do inspection before key handover, though. We just did not really pay attention well in some part of the house, where they obviously have extra eyes.
Below are some of the ways to 'clean up' and filter your stuff:
Basically in every area in the Netherlands, there will be one designated day in a week or month when you can literally throw anything in front of your place. Find this information in gementee site in your are. The government will arrange the pick up with a huge car the next day. It looks like a tractor with a huge tongs to scrape the trashes. This was a huge help otherwise, we would have no idea how to get rid of those big trash-able things.
However, in Amsterdam-Noord where we used to live, the trash was only taken once a month (the last Friday of the week). And in our moving calendar, this day was quite early. So we had to not have stove for a week because we had to throw away (it does not function properly anymore, it's not for selling material). You better keep this in mind for your planning. Because at least 2 days before that, everything had to be ready (disassemble, etc).
We were lucky because we got help from 2 guys (Damar's friend) in the trash day. We lived on the 12th floor and we had to go back and forth to throw the things away. Our back was quite broken that day. We did everything just Damar, I and helps to carry of his 2 friends.
I was quite surprised though when there was a guy coming over and asked if we still have electronic stuff downstairs to throw away. Apparently there were some people who keep an eye on the trash day and waited to take things either for their own usage or to fix then re-sell. That guy turned to be helpful because he needed the stove and hence helping to carry. We did not know how to bring down due to its weight.
There is a platform like marktplaats to ease up the process of you selling the stuff. We filtered what we wanted to sell already 1-2 months before moving and started selling little by little. These days there are also a lot of selling page in facebook and usually it is very quick. You will always find buyers.
When the days get closer yet your stuff do not seem to make progression, you can offer for free (also to help out people and make them happy) in those platforms. They will pick up in a second. Or if you have a big chunk a of stuff or too lazy to go through, you can always contact the closest kringloop (second hand store), they will make profit out of it in their store in the future while you give them for free. It can be coming in handy when you are quite desperate to get rid of stuff 🙂
ARRANGE A CAR FROM YOUR FRIEND OR FAMILY OR RENTAL OR NS.NL (IF YOU DO NOT OWN ANY)
A day before the 'moving day', you can already start bringing the small manageable stuff to your new house. That is what we did which were very helpful. On the day of 'moving day' because the moving company is only booked for a couple of hours, car is beneficial to bring some extra stuff and let you mobile in going back and forth from old place to new place and vice versa. It is also super useful if you need to buy emergency kit and what not from hardware store.
MAKE APPOINTMENT WITH THE MOVING COMPANY AND MAKE DEAL ALREADY (also if you live in the high floor, arrange the moving lift, the parking permission, etc)
Find a recommended moving company that your friend has already used. Recommendation is important! I got this guy from my colleague and he was super muscular and handy. This is what is good to keep in mind; the moving guy will come and scan through all your stuff to map in his mind on how to arrange it in his truck. It will be beneficial for him if you already collect all your stuff in one area.
Tips: Get to know the person, speak on the phone or whatsapp and deal with prices. Give estimation of total boxes, the address you come from and to go to, and he'll give approximate times.
Yay, on the moving day, my brother in law arrived from Indonesia. Together we could!
NOTIFY INTERNET AND UTILITIES (ELECTRICITY, GAS AND WATER)
We tend to forget while it is one of the most essential things to take care of before moving. For the internet, it is best to notify the provider a month before moving. The provider will guide you through the procedure. For my provider telfort, they made us appointment for new connection installation in the new house. We need to bring the router to eventually return to the guy who comes to install.  For the energy (electricity and gas), we used essent and we could do all the steps in the customer login. For utilities, you need to check the last numbers in the meter cabinet and report to the provider.
FINALLY, GIVE NOTICE TO THE LANDLORD 
Same with internet, it is at least a month in advance depending on the contract you make with your landlord. Don't forget this one, otherwise you have to pay double rent 🙂
GOOD LUCK MOVING!! It was a fun journey.. but I do not think I want to do it again at least within 5 years from now.