Dua minggu belakangan ini cuaca di Belanda bagus banget. Cuaca bagus di Belanda artinya sunny, hangat (sekitar 25-27 derajat), dan tanpa campuran angin dingin yang biasanya datang dari utara. Enak banget rasanya dan yang paling penting mood semua orang mendadak menjadi super happy. Karena climate change, musim-musim di dunia agak lumayan terbolak balik beberapa tahun kemarin dan mulai kerasa dampaknya tahun lalu dan tahun ini. Baru kali ini winter masih kerasa sampai bulan April, dan salju masih turun di bulan Maret. Selain itu, cuaca bisa tiba-tiba berubah dari satu hari ke hari yang lain. Di dua minggu yang indah ini, ada 2-3 hari di antaranya dimana cuacanya berubah menjadi suasana Fall lengkap dengan angin dan rintik hujan. Keren yahhhh hhehe
Jadi memang cherish the moment of good weather adalah keputusan yang baik. Ah walaupun begitu, sebenernya orang-orang di Belanda memang cenderung selalu cherish the moment of 'summer' karena generally cuaca di Belanda memang jarang banget panas. Jadi walaupun baru sunny dikit dengan temperatur nggak sampai 20 derajat celcius, orang-orang Belanda demen banget keluar duduk-duduk di teras dan lepas jaket. Sedangkan saya takut masuk angin.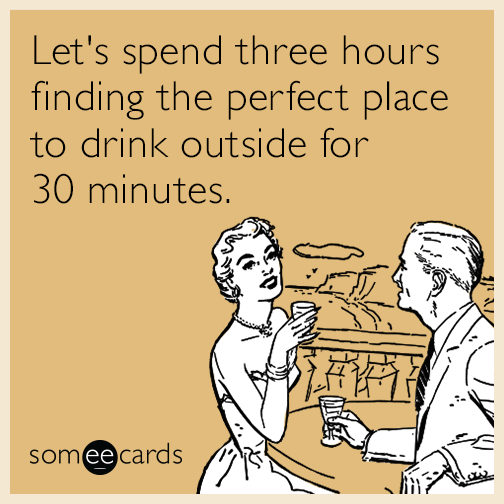 Card from Amsterdam Shallow Man
Di beberapa hari cuaca yang bagus ini saya juga nggak absen untuk ikut menikmatinya. Tips cara mudah dan murah menikmati summer di Amsterdam dengan cara simply ke park, sendiri atau dengan teman. Must item yang harus dibawa ke park adalah picnic cloth (alas untuk piknik), saya juga biasanya bawa makanan dan minuman sendiri bisa beli di supermarket atau bawa di rumah. Karena kenapa? Kafe di dalam taman biasanya nggak punya pilihan yang banyak daripada mengeluarkan uang hanya karena lapar dan haus tapi nggak selera dengan makanannya, mending bawa sendiri kan dari rumah?. Kegiatan ini bisa dilakukan pulang kantor atau bahkan saat break jam makan. Ini adalah salah satu hal yang saya akan saya selalu ingat saya suatu hari nanti saya meninggalkan Belanda dan kembali ke Indonesia. Gimana orang-orang sangat mengapresiasi dan mensyukuri hari-hari seperti ini, hari-hari yang di belahan dunia lain terjadi setiap hari.
My colleagues
Di cuaca seperti ini, salah satu cara yang terbaik untuk bertransportasi adalah dengan bersepeda. Saya punya sepeda yang saya jarang sekali pakai karena saya dapat kartu transportasi gratis dari kantor, jadi alasan saya bersepeda bukan karena keharusan melainkan saat saya memang ingin dan cuaca bagus. Bersepeda ini juga super hemat, karena bisa dengan puas menikmati cuaca mendapatkan sensasi angin sepoi-sepoi menuju ke taman atau daerah yang agak jauh tanpa bayar, plus sarana exercise yang baik. Cara lain untuk menikmati cuaca enak ini adalah ijin bekerja dari 'rumah' dan pergi ke kafe dengan teras dan internet yang cepat sambil menikmati kopi dingin. Ceritanya merasakan menjadi Digital Nomad, except I am not a nomadic YET 🙂
Di satu weekend kemarin, 2 temen saya menginap di rumah demi mengisi kekosongan temannya ini yang sedang ditinggal suami business trip ke Indonesia. Karena saya sifatnya adalah tuan rumah, jadi saya juga ingin menjamu dan mengajak mereka berputar ke daerah tempat saya tinggal (Amsterdam Oost atau Amsterdam East). Kebetulan di dekat rumah saya ada jalan dimana banyak terdapat kafe, restoran dan lain-lainnya. Jalannya bernama Javastraat dan squarenya bernama Javaplein. Yes, saya memang tinggal di Indonesian neighborhood yang dimana nama-nama jalannya bernama kota-kota dan pulau di Indonesia. Saya sendiri tinggal di jalan Maluku / Molukkenstraat.
Kemudian kami ke restoran Thai Tiger yang menyajikan masakan Thailand yang direkomendasikan oleh temen kantor saya.  Very worth trying untuk yang ingin menikmati Amsterdam East. Sekali-sekali boleh lahhh.. Enak banget… Begini kira-kira suasana-nya:
Amsterdam East masih lumayan under-estimated untuk dikunjungi. Biasanya turis lebih suka menghabiskan waktu di tengah kota atau di daerah barat, taman Westperpark dan Vondelpark juga lebih ramai ketimbang Oosterpark dan Flevopark, tapi kelebihannya adalah taman-taman di East tidak seramai di daerah tengah dan barat. Begitu juga dengan tempat-tempat asik, banyak yang belum tahu tempat-tempat di East. Saya salah satunya.. Harus eksplor dan jalan kaki untuk menemukan harta-harta karun yang tersembunyi. Nanti di post selanjutnya saya akan bercerita lebih detil lagi daerah East yang seru untuk dieksplor 🙂 Who knows you'll come around right? And I'd suggest to live in this area too, not too far from the crowd, but not crowded. 
I just hope that this kind of day will stay longer…. 
"The secret of health for both mind and body is not to mourn for the past, worry about the future, or anticipate troubles, but to live in the present moment wisely and earnestly."
 ps. Ada website lucu dan menghibur soal kebiasaan-kebiasaan orang belanda. Check it out, kali ini membahas soal What to Wear in the Netherlands this Summer.